Introduction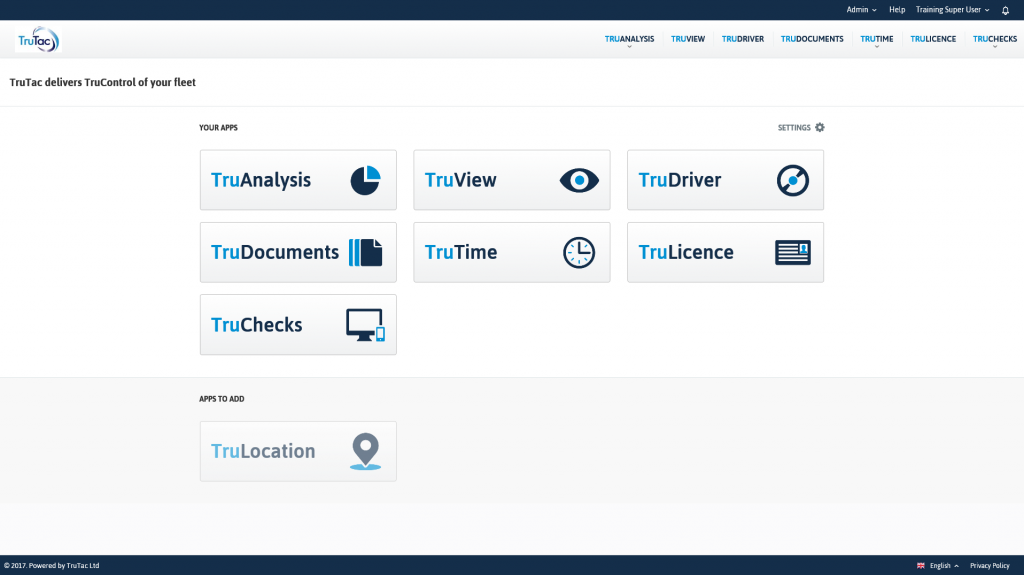 TruControl of your Compliance!
TruTac's New & Improved Management Tools for Complete Compliance Control.
The newly designed TruControl web portal from TruTac contains various refreshed and upgraded products all in one place for simple, all-round compliance management.
The newly designed TruControl portal now includes;
TruAnalysis
The key difference is the all new TruAnalysis, which makes tachograph management, driver de-briefing and compliance reporting more accurate, faster and easier than ever before.
What's new?
• Easier Navigation and Faster Reporting
• Earned Recognition Reporting
• Enhanced Driver Management
• Intuitive KPI Dashboards
• Multi-site Control Features
• Easier to Manage Audit Trail
• Unlimited Vehicle Downloads
• Secure Online Document Storage
• Secure Digital Signature Capabilit
• Improved Vehicle Calendar
TruAnalysis Extra Features;
– Vehicle downloads and online data storage included free of charge.
– Scalable for all types and sizes of operators, whether HGV or PSV.
– Monitor, record and report KPIs against the new DVSA Earned Recognition standard.
TruAnalysis also works seamlessly with TruTac's TruChecks App, which is available both on iOS and Android. The app is easy to use and intuitive, enabling users to get instant feedback and providing a full, time-stamped audit trail. Transport Managers can minimise vehicle downtime with instant defect notifications, fast remedial action and efficient service control.
TruChecks
Daily driver walkaround checking App and back office compliance reporting system.
TruDriver
Driver portal, to educate and inform drivers on tachograph records, infringements, compliance and working time.
TruView
Managers' dashboard which presents key performance data in easy-to-understand graphics and configurable widgets.
TruTime
Driver and employee clocking via tachograph cards or smart cards, providing clocked versus tacho data.
TruLicence
Driving licence validation and verification checking system.
With over 25 years industry experience, TruTac understand that compliance is key for all operators. That's why we design and deliver the most advanced and easiest – to – use management software systems.
For more information on TruControl, TruAnalysis or any of TruTac's other products go to www.trutac.co.uk, email sales@trutac.co.uk or call 024 7669 0000 and speak to one of their friendly advisors.